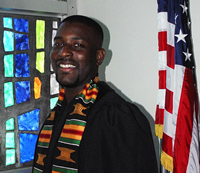 The Reverend Father Dr. Tommie Lee Watkins Jr. is the Associate Rector and Associate Chaplain at Canterbury Chapel, Tuscaloosa Alabama, where his also an Adjunct Professor at the University of Alabama School of Social Work. He also is a spiritual director, behavioral scientist, social worker, former mathematics professor and, commercial pilot. A native of Birmingham, Alabama, he attended Hueytown High School, which his mother Gwen integrated and was the first Black graduate in 1968, and graduated with an Advanced Academic Diploma. He then followed that education with a Bachelors degree in Aeronautical Science and Mathematics from Embry-Riddle Aeronautical University as well as a multi-engine commercial pilot's license. He did not enjoy the impersonal aspect of aviation and began his social justice career volunteering at a local Black congregation in Miami, Florida writing grants for a much needed HIV/AIDS ministry. He worked for several more years as a program director and grant writer for several HIV/AIDS prevention education programs until deciding to return to Alabama to continue his education. He graduated with a Master's in Social Work from the University of Alabama, Tuscaloosa in May 2009 and became a Licensed Graduate Social Worker (LGSW) in the same year.
Because of the gaps in resources and research among Black "non-heterosexual" identified males, Rev. Watkins was driven to complete at Ph.D. degree to become a researcher primarily concerned with the role that religion and spirituality plays in health outcomes among Black gay/bi-sexual males. Rev. Watkins completed his joint Doctorate in Philosophy degree from the Universities of Alabama, Tuscaloosa and University of Alabama, Birmingham, School of Public Health in August 2013. Rev. Dr. Watkins graduated from The General Theological Seminary of the Episcopal Church, New York City in May 2016 Cum Laude with his Masters of Divinity (M.Div) degree.
Rev. Dr. Watkins was ordained the first openly gay Black Priest in the Episcopal Diocese of Alabama on November 11, 2016. He continues to enjoy flying privately, reading, writing, and traveling being especially enamored with South Africa. His company website www.twgllc.biz which contains his book information, Living Out Loud, news print and video of his struggle of self-acceptance as an openly gay clergy are available. His favorite quote of Dr. King's, "Our lives begin to end the day we become silent about things that matter" As such, Rev. Dr. Watkins is compelled to continue to Live Out Loud.